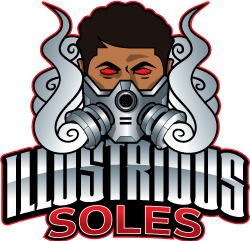 Pricing
Depending on the style, size, and design request, pricing is determined. Full payment secures the spot and no refunds will be given. A contract of service will also be sent via email for you to sign and return by email. 
Proofs
Turnaround time is usually 8-12 weeks. Whenever you order custom sneakers, we will send you a rendering so you can see how the shoes will look and adjust as necessary, prior to customization.
Delivery
As soon as the order is complete, we can schedule a time to meet for delivery, or shipping can be arranged! You will not only be getting a great pair of custom sneakers, but a great experience as well!
Illustrious Soles Order Form
If you have any pictures or images of inspiration please email them to [email protected]
When I was 6 years old, my mother bought me a pair of sneakers that started my love for sneakers and in fact, its one of the reasons why I am where I am today. As a young boy being surprised with a shoe that your favorite player of all time wore was a great feeling. The Jordan 13 "He Got Games", were the shoes that started it all!